Microinjector
PM 1000 Cell Microinjector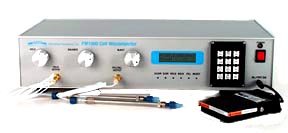 Very simple to use with adequate precision functions for cell surgery
The PM 1000 Cell Microinjector is just designed for cell microinjection and intracytoplasmic sperm injection (ICSI). It is very simple to use but comes with adequate precision functions for cell surgery.
The PM 1000 is a very precise pneumatic microinjector. It can convert a single input pressure ( 30-100 psi ) to varied inject pressures and suction vacuums. All functions and timing are under control of a sophisticated microprocessor. There are two output ports on the front panel. The injection port can perform clearing, sucking, venting and adjustable capillary action balancing and injecting. The direct input pressure is used for clearing the inject pipette. The direct input pressure is also a source of suction vacuum generator which can provide negative pressure (suction) for the inject port. Another output port can produce a gentle and adjustable suction vacuum to hold a cell on a holding pipette tip. Also, a gentle and proportional smart pressure can be produce to push a cell out of the holding pipette tip without blow it off. Holding pipette clearing is available too.
To achieve the simplicity and easy to use, only the injection time is manual controllable and programmable. All other functions are manually controlled. There are neither sequence steps, counters programming, nor mode switching.
When turn on the injector power, the LCD will display only balance pressure, injection pressure and injection timer (or manual control). All actions are immediately ready. Although there is no programmable timer for clearing pipette, the clearing function is very smart : When the clear function key is pressed, the clear pressure will only pulse for a short time (10 millisecond) at the beginning. If the key is still pressed after three pulses, then the clear pressure will go on continually until the key is released.
During injection, the LCD will display and record injection count. If it is manual control, the LCD will display time for acting injection as a stop watch. If injection timer control is needed, just one key pressing will switch between timer control or manual control. If programming timer is needed, also pressing one key will open another key set for number programming. The balance pressure, injection pressure, hold cell vacuum and pushing cell pressure are adjustable. The suction vacuum from the injection pipette is not adjustable. It is controlled by manual timing only.
Besides the key pad, there is a foot switch input for the injection control. It is important and convenient that a foot can be used when both hands are busy on a microscope and manipulators. The exceptional precision and easy to use are essential of the PM1000. It is proved to be a very effective and convenient microinjector in the cell surgery
---
Specifications
LINE VOLTAGE
100, 120 or 240 VAC
POWER CONSUMPTION
35 Watts
INPUT GAS PRESSURE
60 - 100 psi
CLEARING PRESSURE
Same as input pressure
CLEAR HOLD PRESSURE
0-3 psi ( regulated )
INJECTION PRESSURE
0.1 - 60 psi ( regulated )
BALANCE PRESSURE
0 - 10 psi ( regulated )
FILL VACUUM
0" - 24" Hg ( regulated )
HOLD VACUUM
0" - 25" of H2O ( regulated )
+/- 0.05 psi
DISPLAY ACCURACY
+/- 0.05 psi for pressure, +/- 0.1" H2O for holding vacuum(0"-1.8").
TIMER SETTING RANGE
10 msec. to 327.67 sec.(10 msec. resolution for whole range), CONTINUE or MANUAL control.
COUNTER SETTING RANGE
N/A
TOTAL SAVABLE SEQUENCES
No
TOTAL STEPS PER SEQUENCE
No
REMOTE CONTROL PORTS
No
OUTPUT SIGNAL PORTS
No
ACCESSORIES
One IP-1 ( 6' Input tubing with connector ).
Two OP-2 ( 3' Output tubing with connector )
One FSW (Foot switch).
Power cord and User's manual.
HOLD-1, 1, 1.2, or 1.5 mm O.D. pipette holder.
RK-1, rack mounting kits with handles.